On your wedding day, you will be surrounded by friends and family who have come together to celebrate with you. One of the most memorable parts of this celebration is often the favors guests receive as a parting gift. There are many ways to endear yourself to your loved ones by giving them something they'll enjoy taking home from your special day. So what do you give? How about a personalized favor? We've compiled some creative ideas for displaying these thoughtful gifts to help make it easy for you.
Every bride's wedding day is a beautiful story, and the best way to tell it is with creative favors. There are many ways to say thank you without breaking your budget, from personalized earrings to custom-designed cocktail napkins.
Unique ideas to display wedding favors
#1 Candy Buffet
A candy buffet is a lot of fun. Not only did I have the opportunity to enjoy some yummy treats, but guests did too! It provides great entertainment for adults and kids alike. You'll need several large tables covered in butcher paper or linens that you can decorate with clear plastic bins filled with wrapped candy, plates, cups, tablecloths, etc. Here are some photos from my wedding day. I opted not to have a favorite, so instead, guests left with their bags of candy.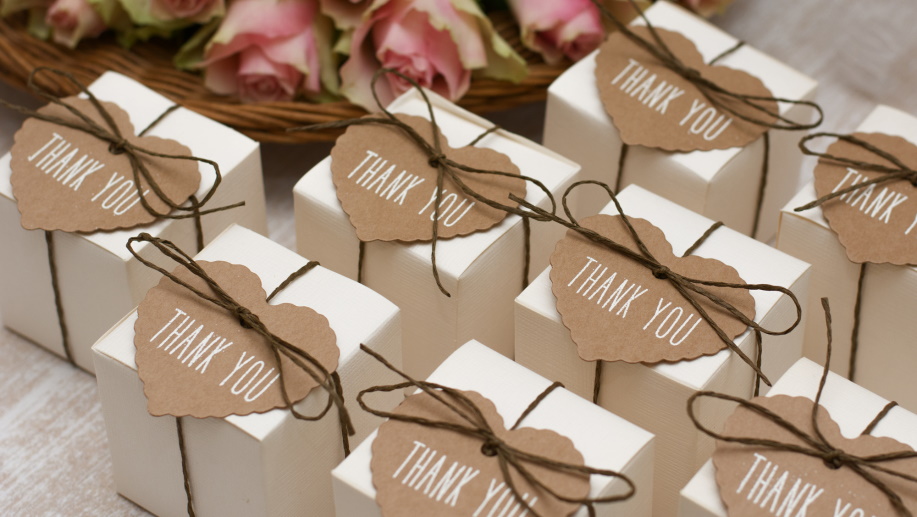 #2 LED Candle Centerpieces
LED centerpieces are a great (and pretty) way to add lighting to your reception tables. These particular ones were not only elegant and beautiful, but they doubled as favors! Guests could take them home and use them for their holiday dinners too.
#3 Cookie Table with Custom Favor Tags
I loved this idea! A cookie bar is a simple yet delicious favor, while the signs give guests some guidance on how to assemble their cookies so that no one's left out 😉
How to decorate your table with wedding favors?
Wedding Favors are a unique way to thank your guests for their presence and also for sharing this special day with you. Customized favors reflect who you are as a couple and what matters most to you. They can be personalized with the names of the bride and groom, monograms of your new last name(s), or a meaningful date of your wedding. Here are some simple tips on how to decorate the tables at your reception: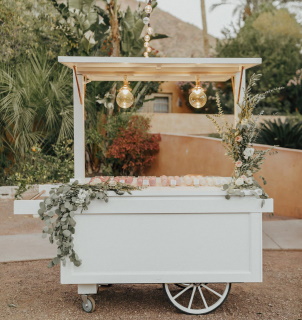 You can attach small ribbons with small bells or similar objects on each chair cover/bench + attach small tags with the guest's name on them & add a ribbon/twine around them.
Use vines, flowers, or silk floral arrangements in pails/vases of different sizes/ shapes to create a unique decoration for each table.
If you use numbers to show your guests their seats, attach them to the tables using self-adhesive ribbon or twine in the same color as your bridesmaids' dresses. You could also use small silk flower arrangements.
Attach small tags with guests' names on them & add a ribbon around them (cut the tags before attaching).
Glue small printed paper bags (the ones like powder makeup comes in), silver or gold metallic paper bags (used for candy), folders, tin pails (like tea), or other containers that can hold something inside them at each place setting. Fill these containers with candies.